Shifting your marketing efforts to digital
We've all, suddenly, been whisked into a world where our target audiences are not travelling, are working at home and spending a lot more time online. Traditional marketing methods are no longer as effective. It's time, therefore, to think about how the new normal will look and prepare our businesses to be ahead of the game.
Marketing has always been about connecting with your audience in the right place and at the right time. Today, this means you need to meet them where they are spending time; on the internet.
During the height of lockup, behaviour shifted faster than ever before resulting in us all digesting more entertainment and information from digital channels. The habit will, undoubtedly, stay with us for some time and gives a clear pointer for marketers to rethink our game.
Vodafone recently reported a 50% rise in Internet use from more people working from home. So, isn't this the perfect time to target your audience with effective digital inbound marketing communications?
Digital marketing is very important for brand awareness. Digital content and marketing are so common now that consumers expect and rely on it as a way to learn about brands. So, long story short, to be competitive as a business owner, you need to embrace some aspects of digital marketing.
With consumer behaviour traveling in one digital direction with increasingly powerful, intelligent and insightful marketing technology on offer, now is the perfect time to start your journey towards transforming your business' digital marketing strategy
Events that engage with delegates online
Another huge digital shift is virtual events. Big events and conferences have always played a part in marketing our clients' businesses. In January we won an international creative award for Smarter Futures Conference in Madrid for MSC Software. In March, we seamlessly transferred to prepare a conference in Germany, but online. We treat our online conferences and events with exactly the same gusto. Restrictions on the movement of people mean virtual events have become something really worth knowing about.
To help, we have put together our Virtual Events Guide, which you can find here. But key points to focus on are:
Pick the software that suits the purpose of your event best (we've listed the top software and what it's good for in our Guide)
Plan how best to present complex information and presentations. A computer screen is very different to face to face, so keep it simple. Be inclusive with clear fonts and high colour contrast.
Create your messages, brand and promotion, just as you would a live event. Have you a good incentive or selling point, to attract people to attend?
Harness attendees, delegates, speakers to include promoting your event in their own comms. Encourage engagement. Send in questions, for instance.
Make sure you test your event and technology before the event, to make sure everything runs smoothly
Explore New World Marketing by Carswell Gould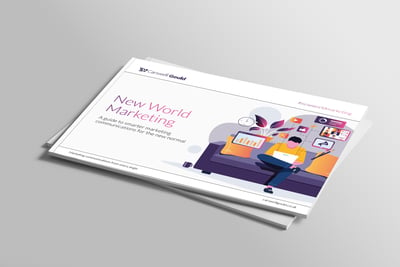 A Guide to Smarter Marketing Communications in the New Normal