Carswell Gould's Creative Director, Ed Gould shares his Top Takeaways from the HxGN LIVE Global event in Las Vegas.
So, my time in Vegas at this amazing tech event has come to an end. It's been an exciting journey for the team, planning, preparing and delivering the HxGN LIVE Global agenda, and even taking part on stage to host and present. Now that the jet lag has finally worn off, here are a few thoughts and musings I brought back with me and want to share...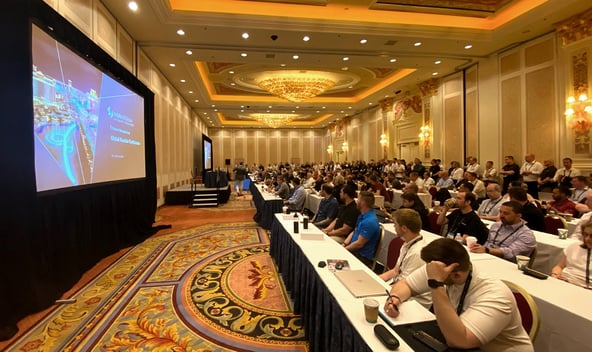 1. Technology needs people to mean anything
When we think about transformative software, technology and innovation we often forget the people part. We've been conditioned to focus on the magic, the nuts and bolts and lines of code. However, we risk overlooking and celebrating the creativity, passion and ambition of the people who shape, promote and support the headlines. While the future will become increasingly autonomous, and our lives homogenised with technology, we humans remain the most wonderful part of life. The way in which we understand problems, and harness technology to overcome them, is as inspiring to witness today as it was the day Edison demonstrated the lightbulb for the first time. The passion of a plethora of people extolling the virtues of new technology that can improve our world makes me certain we can overcome, improve and succeed, because that's what people do; with one clause – it's got to make good business sense.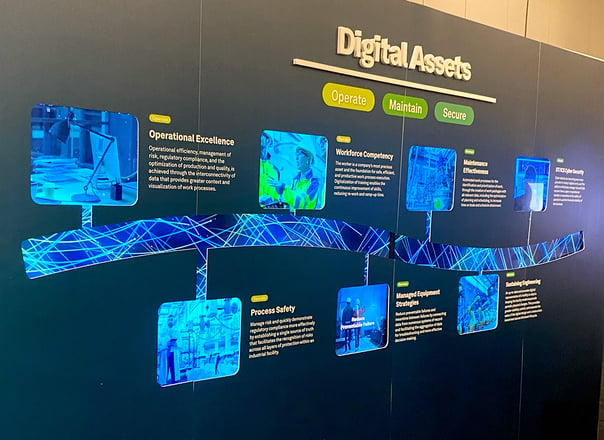 2. Shrink your tech stack for best effect
We apply this in marketing, so it was great to hear it in the context of global manufacturing. Reducing the tech stack, and simplifying and linking solutions, is key for efficient, measurable and successful outcomes. In my world we do it through marketing technology, and by pushing our client partners to explore platforms that achieve a slimline and connected technology stack. In the work of Original Equipment Manufacturers and large-scale manufacturing, right through to machine shops of all sizes, the same is true. No matter if you're shaping the future of aerospace or making iPhones, simplified and connected tech stack - and data - is the future. Without it, you are unlikely to be able to compete. I saw a great new platform called Nexus demonstrated at the event. Learn more about it here
3. Digi-facturing paves the way
Digitisation of manufacturing processes has helped overcome recent challenges, including Covid (through the creation of new vaccines for example) and for logistics and supply chains. The success of this is another factor which contributes towards the great acceleration towards autonomy and vitality across all walks of life, communities and industries.
4. The bigger the event; the more steps
Large-scale events in Vegas are hard work – our very own event director Shirley Wynne-Jones racked up over 30k steps in one day. The space is huge!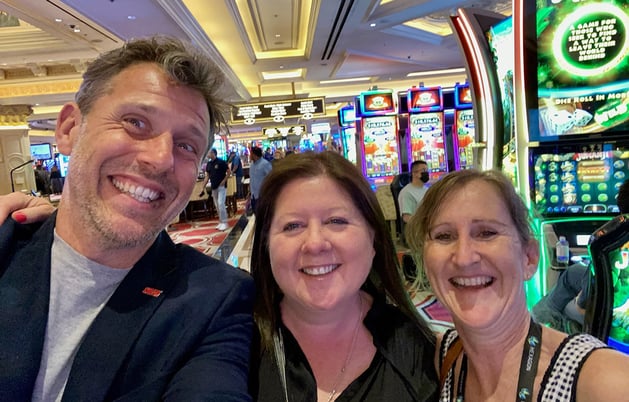 5. Being a small part is a big deal
Seeing your work as part of a business that truly has the potential to change, or even save, the world gives me an enormous sense of pride.
6. It's time to make things last
To save the world and tackle its biggest environmental challenges head-on, manufacturing has to fundamentally shift its view on reusability and design. I saw how this can be achieved through the use of technologies and processes, including additive manufacturing, generative design, digital twins and more. All of these are great individually, but the real magic happens when they're blended into one, seamlessly linked manufacturing solution. The solutions are there. The opportunity to improve exists and is getting better all the time. It's now down to consumers to demand more from the brands they love.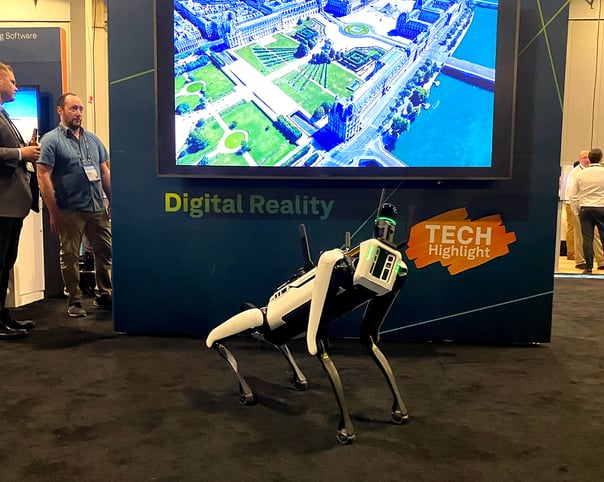 7. Robot dogs don't bite
The Boston Dynamics' robot dogs are not as terrifying (terrier-fying? Sorry) in the flesh as I expected. They can also do some amazing things in surveying and data capture.
8. In big business, purpose is key but making it connect on the ground is vital
Big businesses like Hexagon, Microsoft and Amazon make big claims. They reach far and try to express a clear purpose. Sometimes those claims can be hard to believe. For instance, Google's 'Don't Be Evil' motto was never really believed by anyone, which perhaps is why they removed it from their corporate messaging in 2018. Well, Hexagon makes some big claims too – in short, they want to save the world. Easy to say but hard to live up to, right? But I believe the hype and when I saw all the collective elements together at this event, you really feel they can indeed make a difference on a global scale. And they will do it in a commercially savvy way. After all, no-one will really save the world unless there's something in it for them, will they? Personally, I'm all for that kind of open, honest and realistic approach to making a big difference through business. You can check out Hexagon CEO Olla Rollén's keynote and make your own mind up about the purpose and vision here