Why Spanish? Well, our fantastic Art Director, Rob Harris, was recently asked to mentor and give a career talk to the next generation of creative and design minds from Barcelona's SEEWAY design school. Here he describes his experience and thoughts about his talk with us - a great read for anyone looking to pursue a career in design.
There are milestones along the path to becoming an Art Director, from that first project you take from inception to completion, through to the inaugural award win and recognition from your peers. However, one of my biggest accolades was to be asked to mentor and give a career talk to a next generation of creative and design minds, some of whom are looking for internships, others to work in London or the UK, in the future.
Are you looking for design services? Our team of experts would love to speak to you.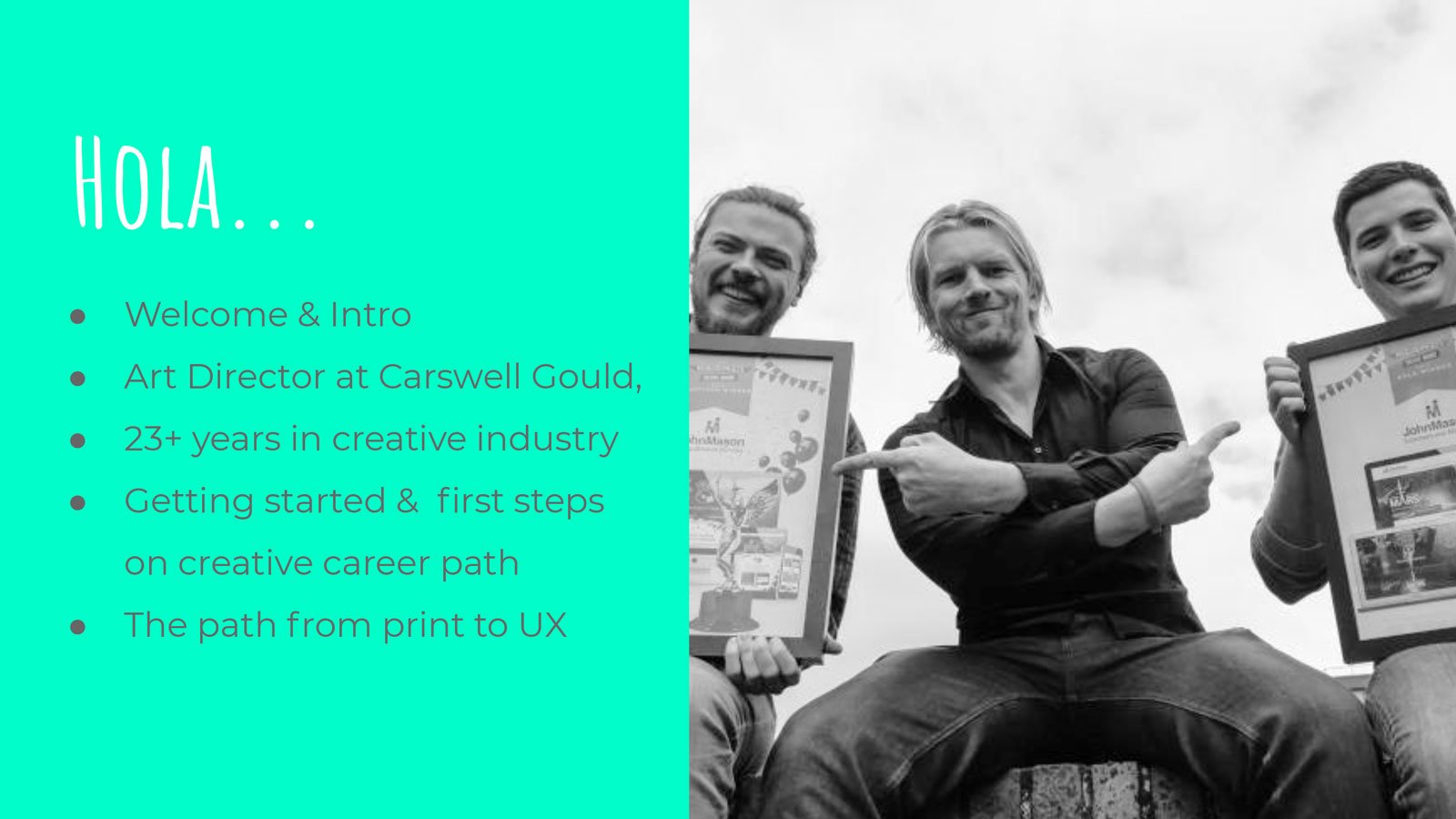 This honour and privilege of 'paying it forward' was presented to me recently. I was approached by Barcelona based SEEWAY design school to give a remote video talk to first and second year students, ranging in ages from 19-34. Having learned so much at a similar stage in my career from others who were treading the creative boards, I was really pleased to do the same and impart my knowledge and insights from over 23 years of success, failure, inspiration and learnings.
So, armed with a sense of moral duty and pride I set about structuring my talk. The theme of the talk was for leading creative professionals to discuss their career journeys and how they got started in the design industry. In addition, I wanted to ensure my address touched on issues such as professional growth and the obstacles I considered pertinent to where I am today.
Having landed my first design studio job straight out of college as a junior designer, I knew the majority of the students facing me would have to cut their teeth and start their career path at the bottom of the ladder, before moving up through the gears to become an established creative designer. One core aspect I felt I needed to convey to enable this evolution was the need to 'always look for the opportunity' in projects. This was key for me in being able to accelerate my career and build a portfolio of projects that otherwise wouldn't have existed. In order to do this, I wanted to stress the need for creatives to be inquisitive and have the inclination to ask questions, develop a sense of curiosity and get involved.
I was really pleased to do the same and
impart my knowledge and insights from
over 23 years of success, failure,
inspiration and learnings.
The group were keen to learn how the development of this mentality would serve them well in a commercial context and how important it was to understand the 'business of design' when identifying when a commercial opportunity exists. As a firm advocate for design thinking in helping solve real business problems, I felt there was an education needed around the 'sweet spot' where the design and business worlds meet.

Don't practice social distancing
In a time when social distancing is the in vogue statement, it seemed a little perverse to be encouraging students to get out and press the flesh of fellow design advocates and connect with as many people as possible - of course, at a 2 metre distance. This need to connect and build a network of contacts is vital. For many in our industry, roles have come about simply because of who we know being able to open doors for us, rather than what we know. Work opportunities aside, this hub of contacts will challenge you to learn new disciplines, get a better sense of how these separate cogs work together from a project perspective and hopefully lead to some amazing projects that you may not have come across before.
Despite being fortunate enough to have worked with brands and businesses of all sizes, from Barclays, Legoland, Domino's Pizza to Meachers Group, Women's Prize for Fiction and Suzuki, there are times when projects don't really have me jumping out of bed in the morning (or midday, if I had to pull a creative all nighter). Therefore, it's vital for creatives to keep the light inside burning bright which is when self-initiated projects are great for learning new skills, growing your portfolio and keeping you passionate about your career.
It's vital for creatives to keep the light
inside burning bright which is
when self-initiated projects are
great for learning new skills.
When not acting as a creative shot in the arm, self-initiated projects also help develop a strong work ethic and encourage you to never stop learning. That's the great thing about this amazing industry we work in. Its ability to constantly challenge and push you forward to showcase artistic vision, creativity and problem solving across a plethora of mediums both off and online.
It's said you are the captain of your own ship and ultimately the success of your career in the creative/marketing industry is a reflection of two things - talent and work ethic.
However, I challenge this notion. As equally important in our forever changing industry is developing the ability to predict curves in the road and potential obstacles in our working environment. Knowing when to pivot and up-skill in a new discipline is key to staying in the game and evolving as a creative.
For me, this came when the digital revolution was on the horizon and I made the conscious decision to learn to code and all things digital, including teaching myself to animate. This decision required many hours of sacrifice and discipline but has enabled me to become equally at ease coding HTML & CSS with pixels as I am animating timelines in After Effects.The days of being a specialist in one aspect of design seems to be rapidly becoming a thing of the past, with the next generation of designers more akin to a creative Swiss Army knife, possessing the ability to jump from visualising UI solutions in Adobe XD, Figma or Sketch to diving into writing HTML code and CSS to bring ideations and design thinking to life pixel by pixel.

Following a closing Q&A session, which included fielding questions on how I achieved my career goals and encouraging students to be brave in their decisions and sell themselves, I felt a massive sense of pride and humbleness having helped the future generation of creative designers write the next pages of their career narrative. The whole experience certainly has helped me keep my fires burning bright for a career and industry that has given me so much and hopefully has so much more to give.
So for now, Adios y buena suerte Barca!
Want to see the full presentation? Here you go...